Products Introduce
DACHENG MACHINERY offers a full range of multistage centrifugal blowers with 20 models to choose from. We have the right blower for your application today and our Research and Development department is developing new models to meet your needs tomorrow.
Product performance ranges up to 98Kpa pressure or to -40Kpa vacuum and flows from 35 to 220 m³/min. Dacheng manufactures blower and process control systems as well as provides complete blower packages with accessories to meet a wide variety of applications.
Advantage
1. Energy-efficient.
2. Clean Oil Free High Pressure Air
3. No Pulsation of Flow
4. Non-bolt installation.
5. Reliable and Simple to Maintain
6. Customized high-speed efficient broadband motor.
7. Monitoring device.
8. Air cooling.
9. Very Low Sound Levels
10. Long service life.
Model and Technical Details
Using environment
Transport media
Air, Neutral gases
Inlet temperature(℃)
0 ~ 40℃
Inlet Pressure(kPa A)
101.32Kpa.A
Blower
Model
C35
Air capacity(m3/min)
0 ~ 35
Round speed(r/min)
0 ~ 3550
Transmission form
Directly connected by Couplings
Pressure(kPa)

78.4Kpa pressure

-31.4Kpa vacuum

Lubrication method
Oil splash lubrication
Cooling method
Air cooled
Sealed form
Labyrinth seal + carbon ring seal + suction seal
Axial balance device
With axial balance plate
Safety device
Bearing temperature and vibration sensor
Noise at 1 meter from the blower
≤80dB
Motor
Model
Energy efficient broadband motor
Power(kW)
22 ~ 75
power supply
380V, 30~70hz 3 phases or Customize
Degree of protection
IP55
Round speed(r/min)
3550
Efficiency
IE3
Explosion protection rating
Customize
Insulation class
F
Material
Blower case
HT250
Impeller
ZL105 Aluminum alloy
Wallboard
HT250
Oil tank
ZL104A Aluminum alloy
Bearing
SKF Bearing
Coupling
JM200+ Flexible diaphragm couplings
Spindle
45# Conditioning
Installation
Fixed way
Placed directly without need for anchor bolts
Application
1) Pneumatic Conveying Applications
2) Water Treatment Blowers & Waste Water Process Control System
3) Petroleum & Chemical Industry
4) Central Vacuum Systems
5) General Industrial
6) Environmental
Package
Certificate
CE certificate, ISO9001 certificate and SGS certificate.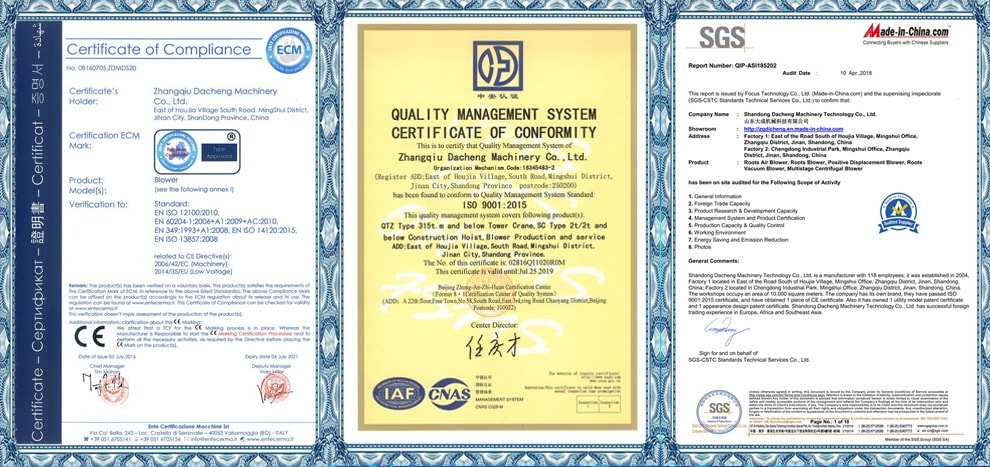 Performance parameters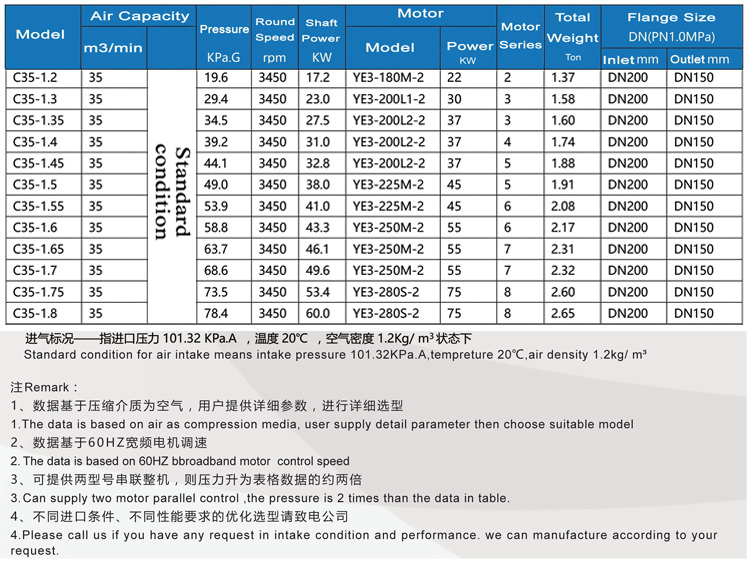 More details, Please click here